Finding your next holiday
Please wait...

Book with confidence
No Results Found
Please try a different departure airport or dates for this destination
Hot Deals
Selected for you
About Polka Dot Travel
Polka Dot Travel is a marketing leading independent travel agency based in Shropshire and Wrexham. Having established in 2013, Polka Dot Travel has grown to become the regions fastest growing Travel Agency.
By being independant we remain completely unbiased, something which we are now becoming famous for. We are not limited to a handful of tour operators unlike most of the high street chains. We are proud to be able to offer you our customer, unrivaled choice. We are proud to have excellent commercial terms with over 300 tour operators which allows us to shop around on the clients behalf.
Read More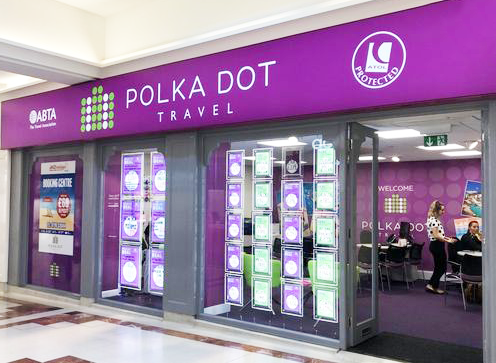 Branch Finder
Polka Dot Travel is a Nationwide Travel Company, please use our Branch Finder to find the closest branch to you
Call Centre
If you'd rather talk to someone just give our call centre a call and a member of our sales team will be more than happy to assist you!
Open 10am - 8pm 7 Days A Week
Call 0330 124 2220
Live Chat
Prefer to chat online? Drop us a message! If we're not signed in we'll respond as soon as we can!
Recently Searched
By our customers
Can't Find What You're Looking For?
You can always use our search to find your perfect holiday or get in touch to speak to a member of our sales team!
Get the latest holiday offers from Polka Dot Travel
Enter your email address to get details of all out best deals sent directly to your inbox.