Cracking Krakow
Author: Amy Bennett
Date: 16/03/2021
Although we're all yearning for that much-needed holiday in a sun-baked destination, it can't just be me that's been craving a cheeky city break?
The excitement of knowing you're dashing off for the weekend somewhere and the antipication of discovering delicious new dishes, undiscovered bars and soaking up that culture, it's definitely been something I've missed!
When I started putting pen to paper (or should that be mouse to screen?!) I started replaying all those past breaks in my head, and I just couldn't stop thinking about a 3 night break I set-off on back in March 2019 to Krakow, Poland. Want to know more? Then please grab a cuppa and a biscuit, and join me as I revisit cracking Krakow!
Author: Helen Johnson / Managing Director
Date: 14th May 2021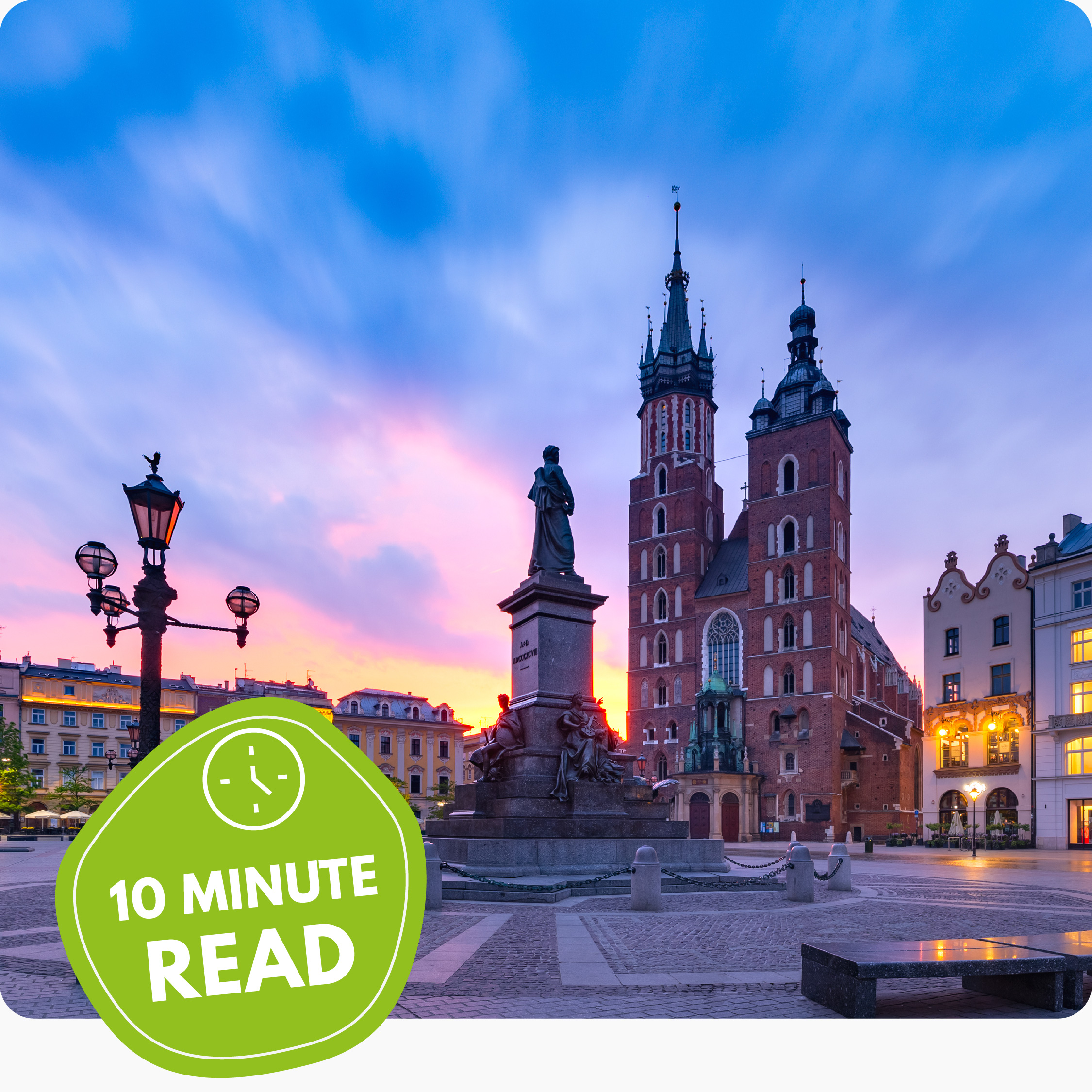 Choosing the right package
I've travelled to most corners of the globe, but somehow Krakow had never quite made it onto my travel list which I now regret massively as there's so much I still want to see and do in this diverse and historically drenched city.
Before we get onto the food (yummmy!) and the sightseeing extravaganza that followed, let's start off with how we got there and where we stayed!
Booking with Polka Dot Travel meant that we could take advantage of one of Jet2CityBreaks packages, so not only were return flights and accommodation included, but we also had 10kg of hand luggage each as well as 22kg hold luggage. Which in hindsight was really flipping useful as we were able to pack thicker coats and winter woolies as it was still a little fresh visiting Krakow in March. I must say though, we were really lucky with the weather and although on the chilly side, the sun was beaming down on us each day which just made me fall in love with the city even more.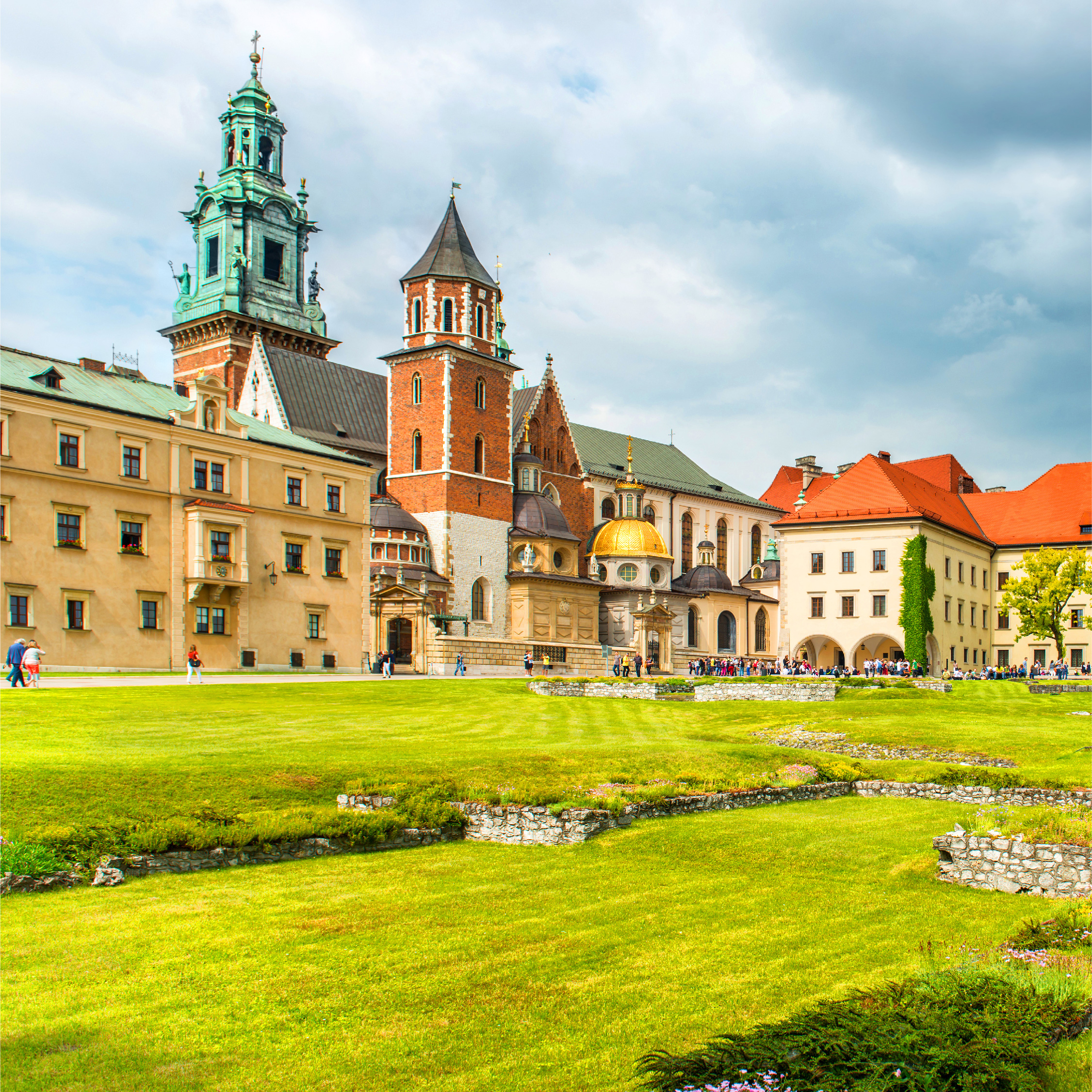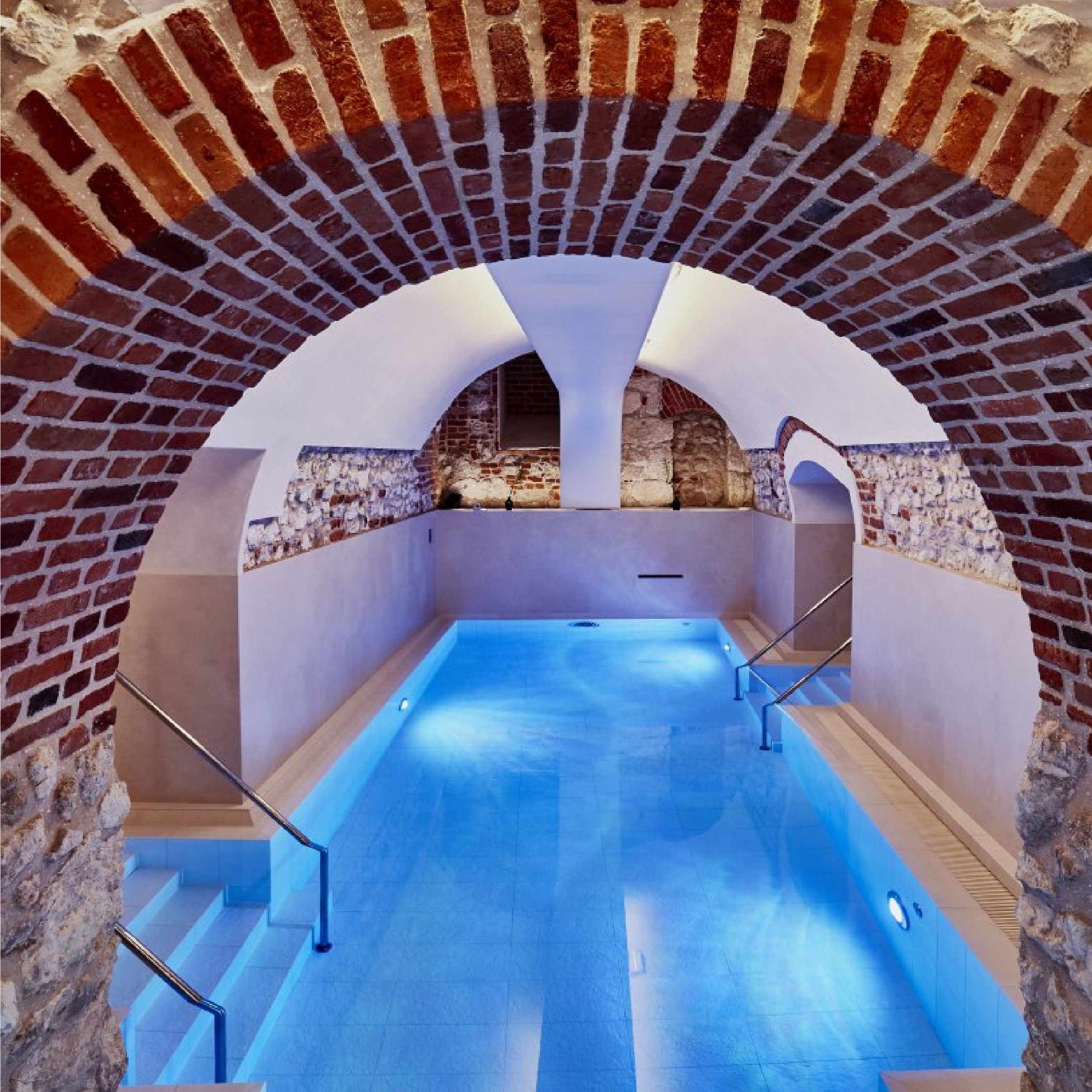 Our stunning hotel choice
We chose to spend 4 nights at the Unicus Palace Hotel which is a luxurious five-star hotel in the center of the historic city of Krakow. And when they say centre, it is literally a 2 minute walk to the famous Town Hall Tower in the Main Market Square. Make sure you're at the Tower on the hour, as something rather special happens!
Anyway, back to that stunning hotel; the rooms are super modern and perfectly sized for a short break. One of the reasons we chose this hotel, apart from the location, was the adults only spa area which offers the most beautiful unground swimming pool. The perfect refuge after a day on your feet.
To make sure we could squeeze in as much as possible, we pre-booked most of our sightseeing tickets including a Auschwitz and Birkenau tour and The "Wieliczka" Salt Mine. We added all this on at the time of booking and meant that we didn't have to waste time whilst away finding somewhere to book and worrying about availabilty.
Day 1
Whilst we had energy aplenty, we spent our first day on the Auschwitz and Birkenau tour which I would say is the number 1 tour to take if you're visiting for the first time. It offers a huge insight into the history of the area and is a very humbling experience that I will never forget.
When we returned back to Krakow, we stopped off for a beverage or two in the main square before heading back to the hotel for a soak in their hot tub before an early night. Whilst we're on the subject of bars, I have to mention the price of drinks and food. We quite literally couldn't believe how cheap it was to dine and drink out. A pint of beer was roughly £1.50 and a glass of wine wasn't much more. Even the hotel bar was really reasonable! The food was outstanding too and there's so many hiddern gems, but onto those later!
Breakfast with a difference
We were staying on a room only basis, so I'd hunted around on TripAdvisor for somewhere local for breakfast. This has to be one of our best finds, a cafe called Charlotte which serves up croissants and bread along with a huge array of jams and spreads which even to this day, I can still taste. Oh but the best bit? This was all washed down by a beautiful glass of champagne, if only all my days could start like that!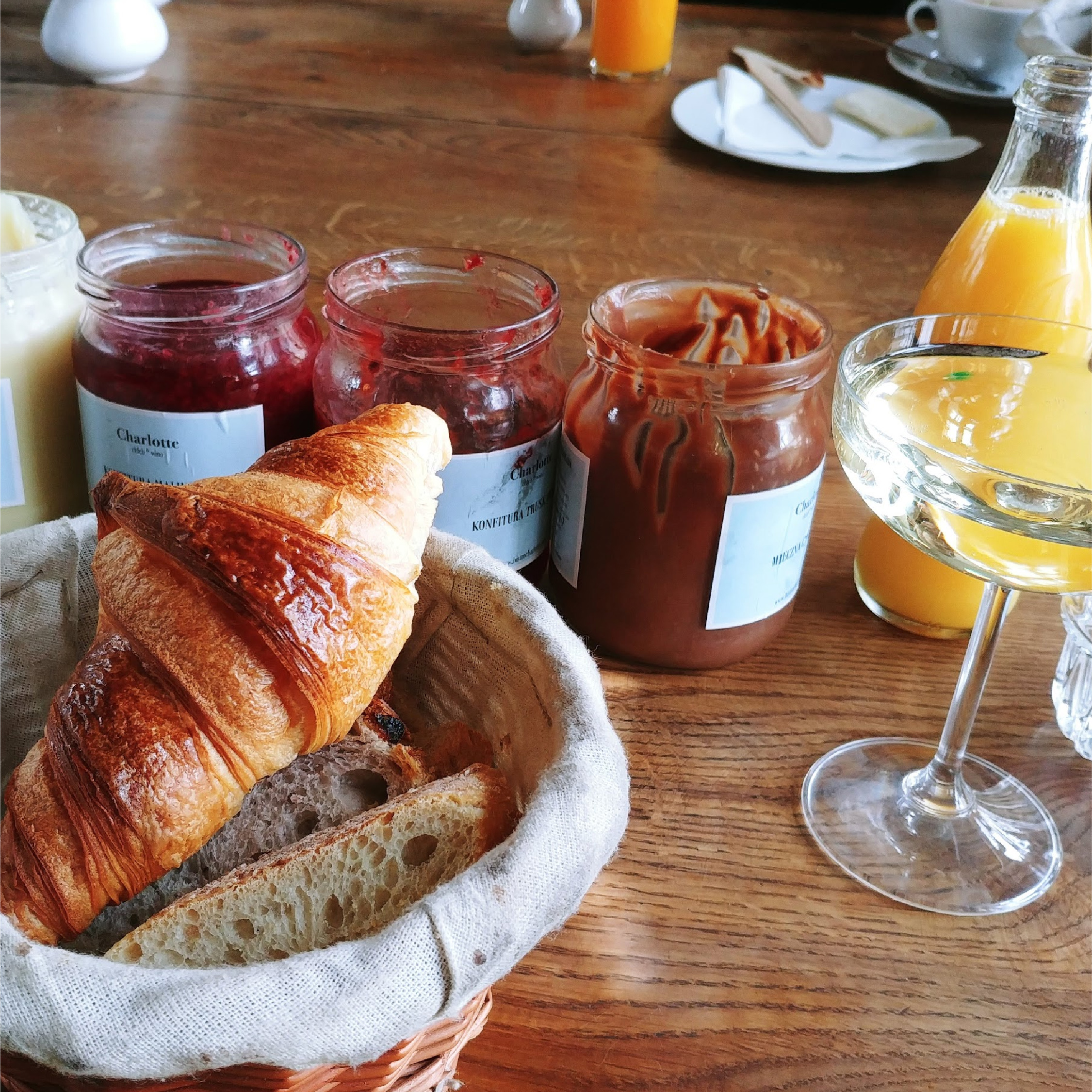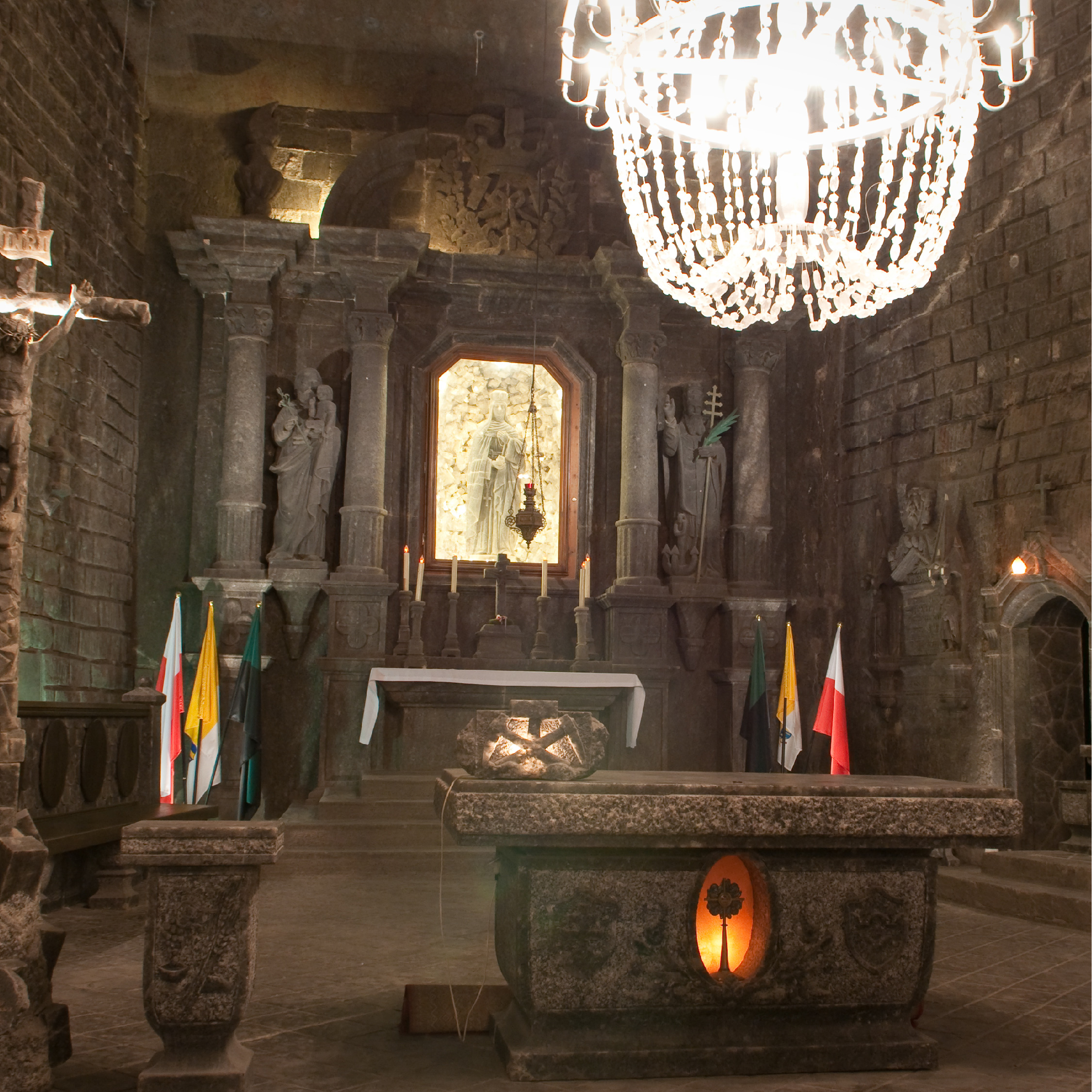 Day 2
Our next adventure was to visit The "Wieliczka" Salt Mine. Our tour included a transfer which got us there in no time, I think it was around 30 short minutes. Lots of people had recommended this tour to us, but I'll be honest, we weren't really that excited about it...but boy were we wrong. The unbelievale world that unravels as you begin to plunge further underground will quite literally take your breath away. Around every dark corner there's a surprise, and although we couldn't take any photos or film, what we saw will stay with me for a lifetime. This is a must-do!
As the Salt Mine was a half day experience, we decided to explore more of Krakow itself and head up to the Wawel Royal Castle. We purchased a headset tour here which was no more than £15 for the two of us and set off wandering around the grounds and church taking in the rich culture and history of the area. If you're not afraid of heights or a steep climb, we definitely recommend being brave and climbing up the tower in the church.
As another day was drawing to a close, our tummies needed refueling. We wanted to taste some of the local dishes and so opted to pop into Czarna Kaczka (The Black Duck) which had very good write-ups on TripAdvisor. We sampled dumplings along with goulash, which really didn't disappoint and as a newbie to Polish food, I really feel I've been missing out! Think hearty and delicious, topped off with a vodka chaser. Well, when in Poland?!
Day 3
Day 3 was upon us and we decided to take things at a slightly slower pace. The city of Krakow is adorned with streets and streets of charasmtic buildings with historical importance, so we decided to download a free walking tour app which gave us the opportunity to explore at our own pace - and pop in for a beer or two along the way of course. One thing I would say is remember to pack a charging bank as I found I was whipping my phone out every 2 seconds to take a million pictures, and you don't want 5% battery half way through your day.
As it was our final night in Poland, we thought it was only right to partake in local culture and visit a vodka bar. We chose Wodka and once inside, you'll be blinded with how many different vodkas you can choose from. For a set price, you can pick up a sample board of 6 vodkas. Flavours range from chilli and chocolate to wild rose and honey. There was so much choice. Be warned though, the "sample" sizes are somewhat on the large size and we certainly walked out with a grin on our faces once we had made our way through only a small selection of the menu!
It's been so fun taking a walk down memory lane and it's well and truly given me the bug to revisit. Has it bitten you too? Why not get in touch and we can help plan your Krakow break from start to finish. But for now, I think there's only one thing left to say - na zdrowie!